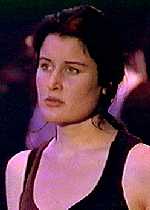 Welcome to my personal page of Paula Cole

I fell in love with Paula last year on the Lilith Fair '97 tour.
Even though she was not at Cantebury park then, we still
were given a treat of her music between acts.
I had only heard a few songs of hers that were on the
radio, 'Where have all the Cowboys Gone' and
'I Don't Want To Wait'. If I had only known then!
I remember crying and feeling the fire and fury
in the song 'Tiger'.... Then a miracle happened!
Lilith Fair '98 came, and Paula came with it!
August 21st, and there she was on the stage after Joan Osborne
wearing black shorts and a black halter top.
Her clear and wonderful voice ringing through the crowd of
over 30 thousand people, singing as if to each and every
one of us. What a wonderful miracle was bestowed upon us.
Her talent,beauty and energy all up there on that little
stage. She sounded like she was singing from the hearts
of everyone. Especially myself and my daughter.
I am so glad to have gotten the chance to hear her live
and to have been able to share a momment in music history
with my daughter. Thank you Paula Cole!

You are listening to 'Me' by Paula Cole from the album 'This Fire'.
Midi is courtesy of Jason Baucom and his Paula Cole Images page...
( Check him out, its a GREAT page!)
Me
i am not the person who is singing
i am the silent one inside
i am not the one who laughs at people's jokes
i just pacify their egos
i am not my house or my car or my songs
they are only just stops along my way
i am like winter
i'm a dark cold female
with a golden ring of wisdom in my cave
CHORUS:
and it is me who is my enemy
me who beats me up
me who makes the monsters
me who strips my confidence
i am carrying my voice
i am carrying my heart
i am carrying my rhythmn
i am carrying my prayers
but you can't kill my spirit
it's soaring and it's strong
like a mountain
i go on and on
but when my wings are folded
the brightly colored moth
blends into the dirt into the ground
chorus
and it's me who's too weak
and it's me who's too shy
to ask for the thing i love
and it's me who's too weak
and it's me who's too shy
to ask for the thing i love
that i love (6 times)
i am walking on the bridge
i am over the water
and i'm scared as hell
but i know there's something better
yes i know there's something
yes i know, i know, yes i know
that i love (5 times overlapping chorus)
but it's me
and it's me
but it's me (4 times)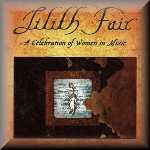 click here to go to the Lilith Fair web site..

Click here to go back to main page....